Chiropractic Care
At Origin Family Chiropractic, our team of chiropractors is committed to helping you improve your health. If you're in pain or experiencing a form of dysfunction, we welcome the opportunity to evaluate you. From our examination, we'll determine if we think that you can benefit from chiropractic. If not, we'll refer you to the appropriate practitioner.
Involving You in Your Care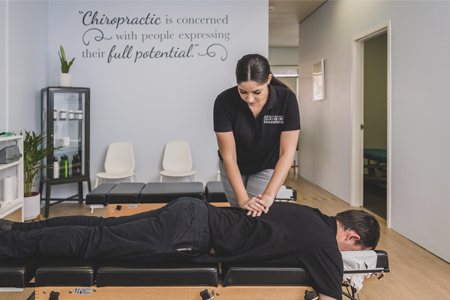 When you begin chiropractic care with us, our recommendations are all based on your condition and what your health goals are. At your first visit, we'll extensively discuss what you would like to achieve and what your expectations are from care.
Your follow-up is when we'll go over what our findings from your examination are and how they correlate to your particular complaints.
We want you to fully understand your diagnosis, how we may help you and the length of time involved in your care.
The Techniques That Suit You
Our chiropractors are skilled in a broad range of techniques. There is no single method that we use on each patient. Instead, we look at your individual needs, then choose the technique that we think you will get the greatest benefit from. If you would prefer a particular adjusting technique, we'll be happy to accommodate you.
Our Complimentary Spinal Checks
You're welcome to make an appointment for a complimentary spinal check. At this appointment, you'll come in and get familiar with our environment and staff. You'll meet your chiropractor, discuss what's brought you in and have some brief testing done. After this testing, we'll know whether we think you're a candidate for what we do.
Book Your First Appointment Today
Don't put off regaining your health. Contact our clinic today to schedule your first appointment with one of our chiropractors! We have two clinic locations in Mandurah and Falcon to serve you. You can book at either of our practices depending on which is most convenient for you. Free parking is located on-site.
CONTACT US
---
Chiropractic Care | Origin Family Chiropractic